Friday, January 30, 2009
I am in love with this card. I want to pet it! Okay, obsessed with scrapbooking, I know! The green felt square is actually a coaster that I got at the dollar spot. They come in packs of four with all the spring colors and the pretty flower cutouts. The rest of the card is from the Making Memories Chloe's Closet collection. It is the prettiest line and perfect for Spring! Usually with something so pretty, I just want to hoard the supplies. I just couldn't resist using these ones though.
Posted by

Roxann
at 11:35 AM
No comments:

Thursday, January 29, 2009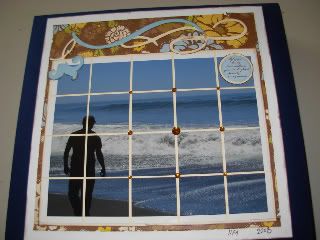 This layout is of my husband on the Oregon Coast. We try to go every summer. The paper is from Close To My Heart and I used my Cricut for the swirly thing.
Posted by

Roxann
at 7:53 PM
No comments: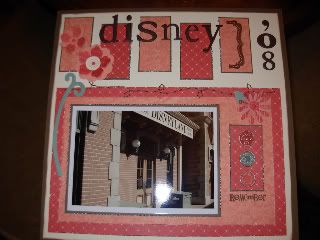 Another Disneyland picture of the train station. We went in October and we got right through all of the lines. Again, this is Close To My Heart and the letters are Basic Grey
Posted by

Roxann
at 7:49 PM
No comments:

Here is my first post in the blogging world! It is a layout of my hubby and I in Disneyland. I am always the one taking the picture of ourselves. We had such a great time there with the kids. The products are from Close To My Heart
Posted by

Roxann
at 7:31 PM
No comments: